Reflecting Back on 2005
by JdyJdyJdy
It's now been 11 years ago today that this adventure started. I've come along way since being homeless in 2005. I hope to travel these roads again with new eyes and gain a new perspective. This was a great learning experience. There are 8 parts to this story. Today I am sharing Part One.
Part One
The year 2005! Wow what a year it was...
January:

I worked as a cook in a hospital/nursing home...The hours where good and the people were nice. This is were I worked
.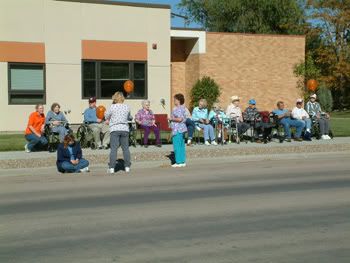 January

was just a regular month.
Jon and Candy in the snow.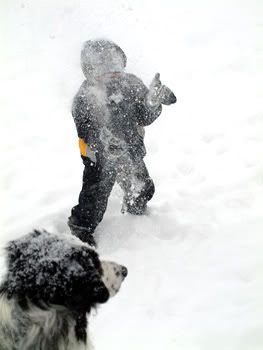 Me and Jonathan
February
:
Here is where things really started turning around. I woke up one day after work and could not move my neck! I figured I just slept wrong and went to work anyway. Next day it was worse...I went to the DR. before work. They took X-rays and immediately set me up an appointment with a neurologist. The Dr. said the X-rays looked Nasty! Yes he really said that! lol
So I go to get an MRI...then to the Neurologist. Aww well he said, " I don't want to scare you , but your neck is so bad, that if you happen to fall down or something you could risk being paralyzed from the neck down. WOW...I just sat there and stared! Surgery was planned for 4 days from then...I had to have a cervical fusion of vertebra's 5-6-7...Dang that sucked! I was in the hospital for 2 days and one night...off work for 3 months and had to wear a neck brace. So that pretty much takes care of Feb, March.
April:
My older Son decided to move from IL. to SD to live with me and Jonathan. It was sooo great having him there. Even though there were NOTEs! lol (He knows what that means) funny now when we look back at it!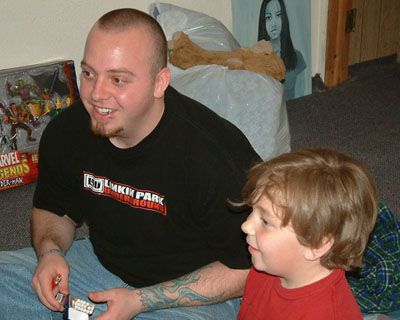 Jonathan loved having his brother home. :)
May:
Well I was feeling much better in May. So I tried to get my old job back in the laundry dept(I had worked there before the kitchen) at the hospital/ nursing home...Nope! They were afraid I would get hurt and the DR. had said not to go back to kitchen work. He said to find a nice office job. At that point I still was not allowed to lift to much...I was in a small town and no one wanted to hire ME! They had all seen me around town with a Neck brace on...I guess that means you have the plague or something...ha
Jon graduated from Kindergarten! :)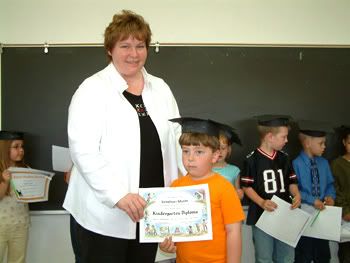 Looks so Happy! lmao...More like big friggin deal I just wanna go out and play! After all he had a trampoline at home.
So Jon spent his days playing on his trampoline.
..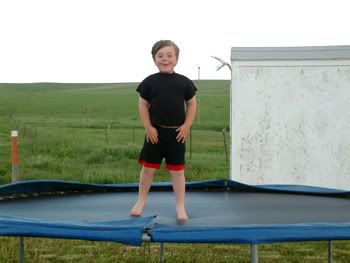 June:
I paid my rent on June 2nd. Then on June 3rd I got an evict notice from my landlord....OH GREAT!!! He decided he did not want to rent anymore! Now what?? A week after that, my son's father quit his job...so no more child support! I still did not have a job and there was nothing! absolutely nothing available to rent...anywhere!
No one wanted us to stay with them because of the dogs. I wasn't going to get rid of my DOGS! They are part of my family. ;)
Then thoughts of no more walks on the prairie entered my mind
.

No more prairie weeds as flower presents from Jonathan,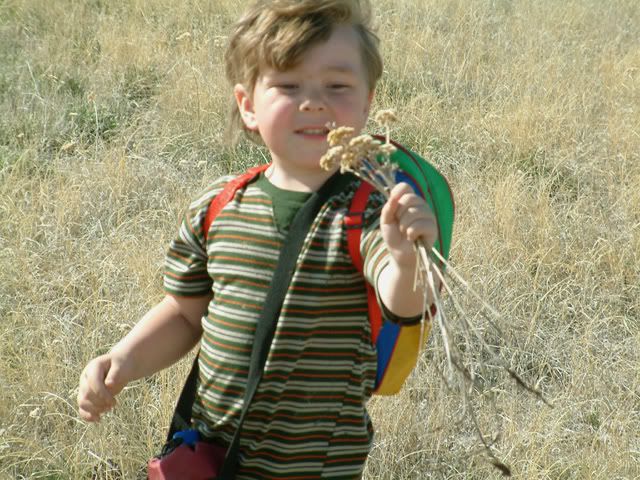 No more long walks with the dogs
and Jon.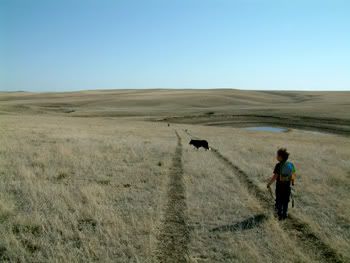 We So loved those walks...there is more to see on the prairie than you would think. :)
Everything was just leading to the fact that South Dakota was just not working out!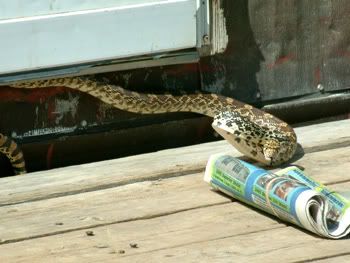 We came back from the store one day to see this on our porch! Just another sign it was time to go.
Then I received a check from the school district for gas from driving my son to school. I decided I would just have to camp out for awhile. So I researched camp grounds, cost of living and calculated how far the money I had would go.
July:
This was it! Had to move...I put all I could in a storage unit, loaded my 1976 Jeep Wagoneer with a bunch of stuff! I painted, "A Wing and Prayer" on the back of it with fingernail polish!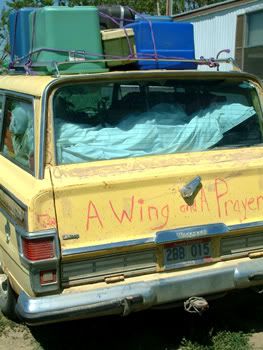 Did I mention that second gear was out?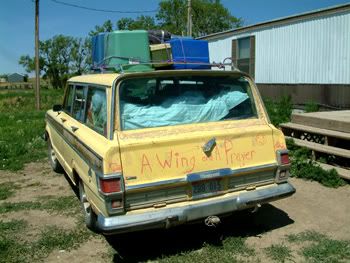 163,000 miles or 263,000...no one really knows!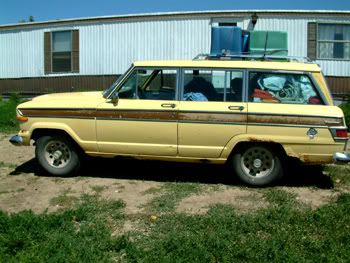 It was scary at first, but I also remembered this picture I had taken just a few days before we
left.
I had seen the face in the clouds
.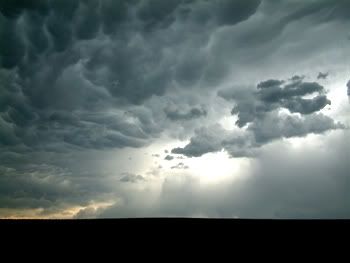 To me it was a sign God was watching over us. The storm before this picture was over 70 mph winds, tornadoes in the area, hail etc...We were in a trailer on the prairie! Trees were knocked over and everything, yet the trailer actually stayed put. It gave me enough faith to go out on a wing and prayer!
That and lots of people were praying for us. :)
Jonathan and the dogs loaded up no problem. After all they figured it was just a giant vacation! The first stop was at Chadron State park in NE. I knew right away I was on the right path. We went to set up and someone had left a campsite with a fire already burning! :) Another storm was approaching so it was nice to have something to cook on.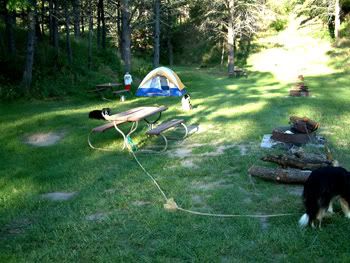 I know it looks sunny, but there was a storm coming! :)
Rocky wanted to stay in the Jeep when the storm started. However Candy would not have that! She wanted Rocky with us. Candy about had a doggie heart attack! She hates storms to begin with and I tell you what, her eyes about popped out of her head when it thundered and we were only in tent! (So that night the dogs slept on the camp mattress with me and Jon!) Sammy didn't care for it much either. Jon and I were laughing! The storm was short lived and we slept all night. The tent even stayed up!
The next day we headed for Lake Minatare in NE.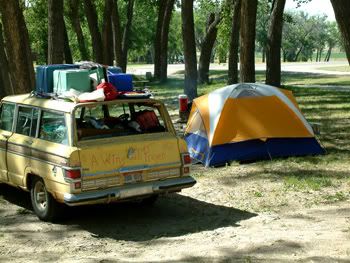 The weather was great we stayed here for a week. Here are some of the photos from this part of the journey
.
The sunset view over the lake.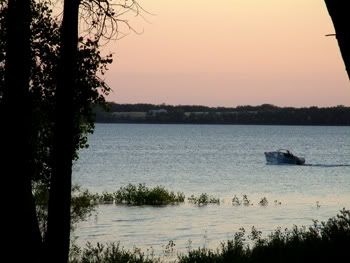 Candy climbing Trees...I missed the shot of her in the big tree...she was really climbing it! It was laid over just enough so she could get in it. She climbed clear to the top,up about 50 feet in the air! Jon was scared and made her come back down. lol
At least I got one shot of her on a tree.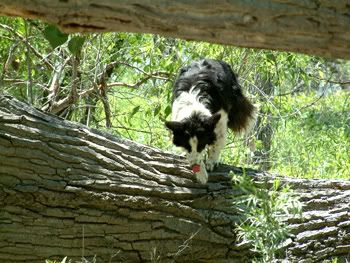 Sammy D jumping trees!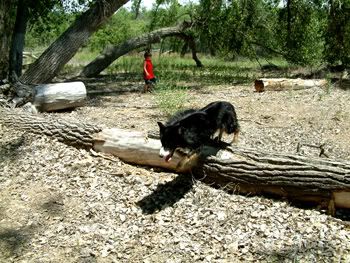 Jonathan climbing on Trees.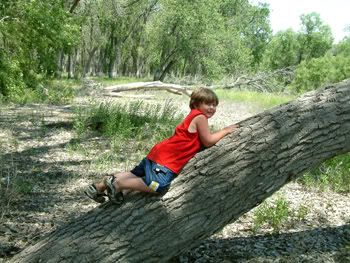 Jon, Rocky, Candy and Sammy D all enjoying the cool water on a hot day. :)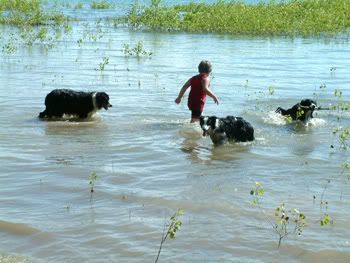 Sammy D swimming out too far! Candy had a fit! She barked her ass off! She insisted that Sammy get back to shore immediately!! WOOF WOOF! NOW SAMMY NOW! WOOF WOOF! You'll drown! You are out way to far!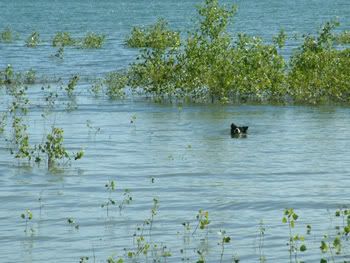 Oh my I laughed so hard...You see Candy is the Queen and all must obey her! ;)
It was just like a vacation at first. Learning how to cook every meal over a campfire was a chore! I got pretty good at it though. ;)
Jonathan collecting wood for the fire.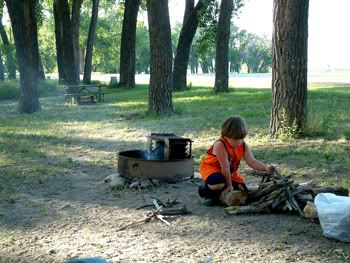 The first day he was all gun ho! He went to every abandoned camp site and got all the left over wood. He was grinning and having so much fun. Well the next day was a different story!
Right after he woke up the next morning, Jonathan looked at me,looked at the campfire, put his hands on his hips and said, " I tell you what! I am not working my ass off today getting firewood!" I laughed and told him he did not have too! He said, " That ain't fun it's work!" To funny! However he did end up getting more firewood. I think he was just tired and sore from doing to much the day before. Bless his little heart.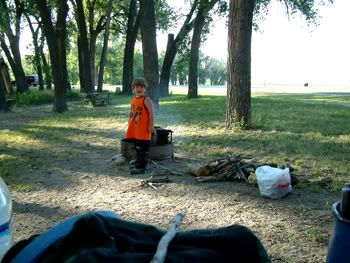 At this point Jonathan really did not understand we were "homeless" and that we had just the tent to live in. To him and the dogs it was fun just staying at the lake! Rocky was in doggie heaven! :) Rocky was at the lake. first sign of light everyday. Candy hung around the camp or stayed by her boy Jon. Sammy D stayed mostly by me, unless of course a rabbit came by.
Then day 7 came. I still had no job, but I did have a P.O. box and was going to get public assistance. In NE. they will help you out even if you are staying in a tent!
My mother had said something about coming out to camp with us. Then she could watch Jon and the dogs while I looked for work. Aww best laid plans of Mice and Men!
So Granny(that's what everyone calls my Mom) shows up! With her dog and cat! Yes CAT! lol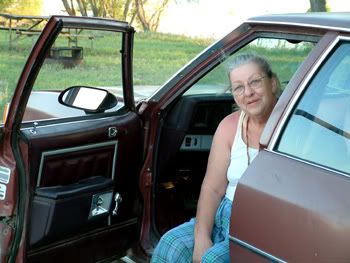 This is were I am going to end the first part, because whenever you get Granny involved in anything...well its gonna be long!
Part 2 coming soon...adventures in Bear Country and more to come...