The Jemez Mountains are a beautiful sight. I hope to go back there again someday.
Reflecting Back on 2005
part 4
by JdyJdyJdy
Well here we are at Jemez Mountain campground. I am tired, pissed and thinking I could be in a comfy motel room! We spent so much money on gas today that would have paid for it!!
Great RAIN ! I have about had it!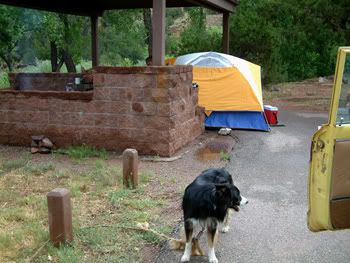 Sammy D and my tent and car door.
The ground was just mushy mud! I had to set the tent up under the pavilion. Granny set hers up on the drive in front of my car. Oh I forgot to mention that Sammy D does not like Myatuk! Myatuk is Granny's dog! We have to keep them separated. So every time we stop somewhere it is a big ass battle about who is going to be tied up where etc....Believe me there were days were I just wanted to let Sammy D loose and have his WAY! I was totally getting frustrated at this time. What the hell was I thinking?
Then I started to just realize there was not a lot I could do at this point and I started a fire fixed supper and then I finally looked around! It was soooo pretty here. Peaceful, too! No other campers close by and Candy wasn't barking her ass off! So just as I get back to close to normal, here it comes...Granny! She pipes up and says,"Well do I at least get credit that this is a beautiful place?" I turned around and thought to myself, she best be glad she has the money and she is my MOM cause, ewwwwwww she has a way of grating on my nerves like no other human on this planet!
Anyway I suck it up and say yes! This place is awesome and it truly was. Still didn't change the fact that I sooo wanted to be in a cozy bed and have a nice shower. Camping for fun and camping because you have no where to go are totally different things.
Things calm down and we watch the fire and have some pleasant conversation. Jonathan goes to the tent to sleep and shortly after so do I. Then Granny walks by with Myatuk before I get the zipper shut and Myatuk tries to get at Sammy D in my tent! Wakes up Jonathan....ewwwwwwww I just wanted to kick that dog of hers! uggg
Finally sleep comes.......
New day starts....Already Granny was on it! lol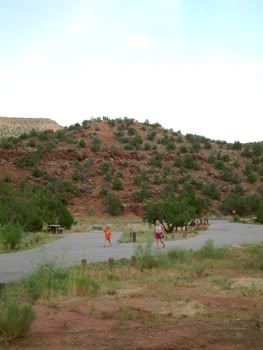 Mind you she takes my son with her, to go and see if we can get another discount night! Jonathan comes back all proud...He said "she did it and this time she didn't cry. We can stay another night for ten bucks!" I just look out the corner of my eye and say "COOL". Heck I did not feel like driving all over going nowhere anyway! It was a beautiful day and it was really nice to just relax.
Jonathan and I took our dogs on the hiking path. It was really neat. Such a nice place to take a few pictures. I talked to the couple that was hosting there. They were really nice. They had been living there for five years. The lady said her husband was a cancer survivor and that they had many repeat campers that came for the view and to see them. Her husband made arrangements with the Indian tribe, for when he died. He got permission to have his ashes spread out on this mountain.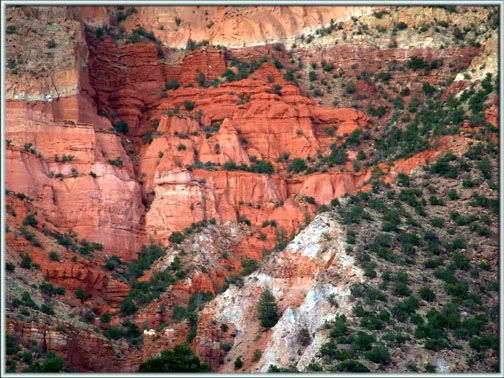 Of course they prayed that would be many years down the road! It was so cool to see this couple. They had a great relationship and truly cared for each other. They understood our plight too. When we left there I gave her the plant I had been carrying with me the whole trip. I had brought the plant I got from my Dads funeral in 1995. He died of cancer. I asked her to watch over it for me and she gladly took it. I sure hope they are still doing well there. Here are a few more pictures from Jemez Mountains.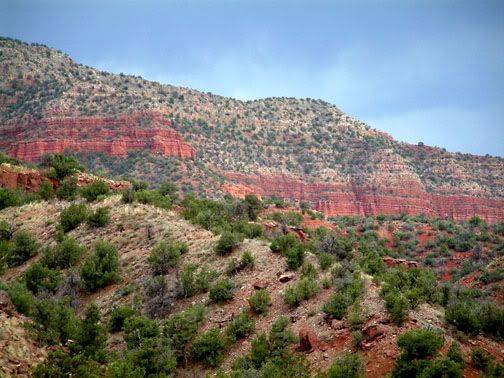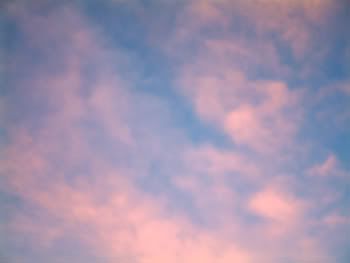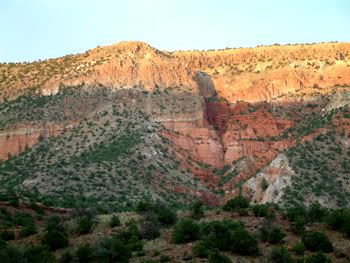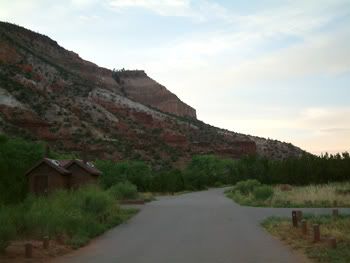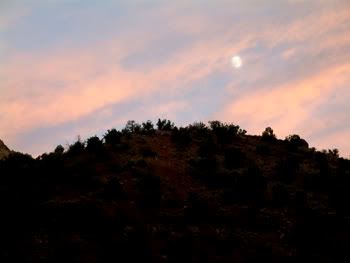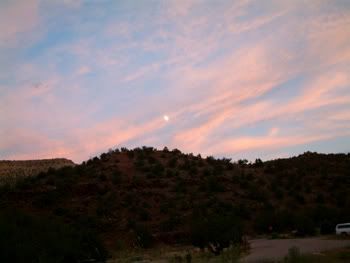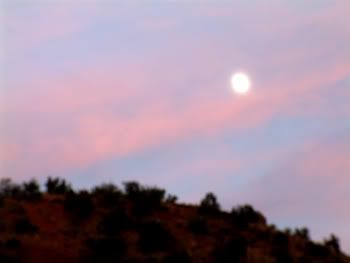 By now I have adjusted to the fact that I am not going to be in a Motel anytime soon. At least I got some nice photos too! Day two is over here now and its time to hit the road. We got up early, packed up and headed back down the mountain.
We got to the town right outside of Albuquerque. It was time to get a spare tire. Luckily they had one to fit and put it on for 25 bucks. Oh I forgot that when I was sitting at a gas station in Las Vegas, NM a man walked up to my car and handed me 20 dollars. He said, "Many blessings to you on your journey. The Lord told me to give this to you." I took it and cried! Granny came over and asked what did he give you? I said , "20 bucks and then she started to cry!" Well it came in handy for that tire that's for sure.
So off we drive to Albuquerque. Holy moly! Traffic traffic and more traffic. We pulled over at a gas station and Granny says, "Hey lets get a Motel here, this traffic is bad and I am so tired...FINALLY I think a nice soft bed! Well guess what?? No motels would take the dogs! So off we go, now Granny says "I want to get out of New Mexico." Oh Man! Okay whatever! Been here all of what 3 , 4 days? I lost track of time completely somewhere along the road.
Well we head out of Albuquerque. We are going through egad tons of traffic, 5 or 8 lanes...lost count! Then finally a two lane again through part of the mountains. Going down hill on the final descent out of Albuquerque my Jeep dies! Yes dies! Totally nothing. I had a heck of time guiding it off the road. I turned on my emergency blinkers and Granny pulls in behind Me!
Okay so now it looks like someone is already there to help. We have no cell phone. Looks like a healthy 3 mile walk at least to the nearest town.
Thank God, a lady in a Van pulls over and she has a Cell phone and calls a tow truck.
Awww time to end part 4...
Mechanics, Stuckys and Motel....part 5